I'm writing this 3 days post running my first Ultramarathon. My heart is full, my legs are somewhat recovered so that the 5 steps in our kitchen are now completely negotiable and life has mostly returned to it's normal rhythm. Except somehow it is all different. I have learnt so many lessons that are applicable to not only running, or exercise, but to life's journey itself.
It all started with a decision. A decision and a belief in myself. Well actually a decision, self belief and a whole lot of work. Not just a whole lot of work when I felt like it, but work that was consistent and regular. It wasn't any kind of work either, I had a coach (well 2 really) who I trusted and had faith in. I didn't ever doubt the plan. It actually wasn't that hard, it just wasn't easy. Thank-you Sarah Dare!
On the 18 May my Garmin watch presented me with the following message, I guess this meant I was prepared to complete my challenge.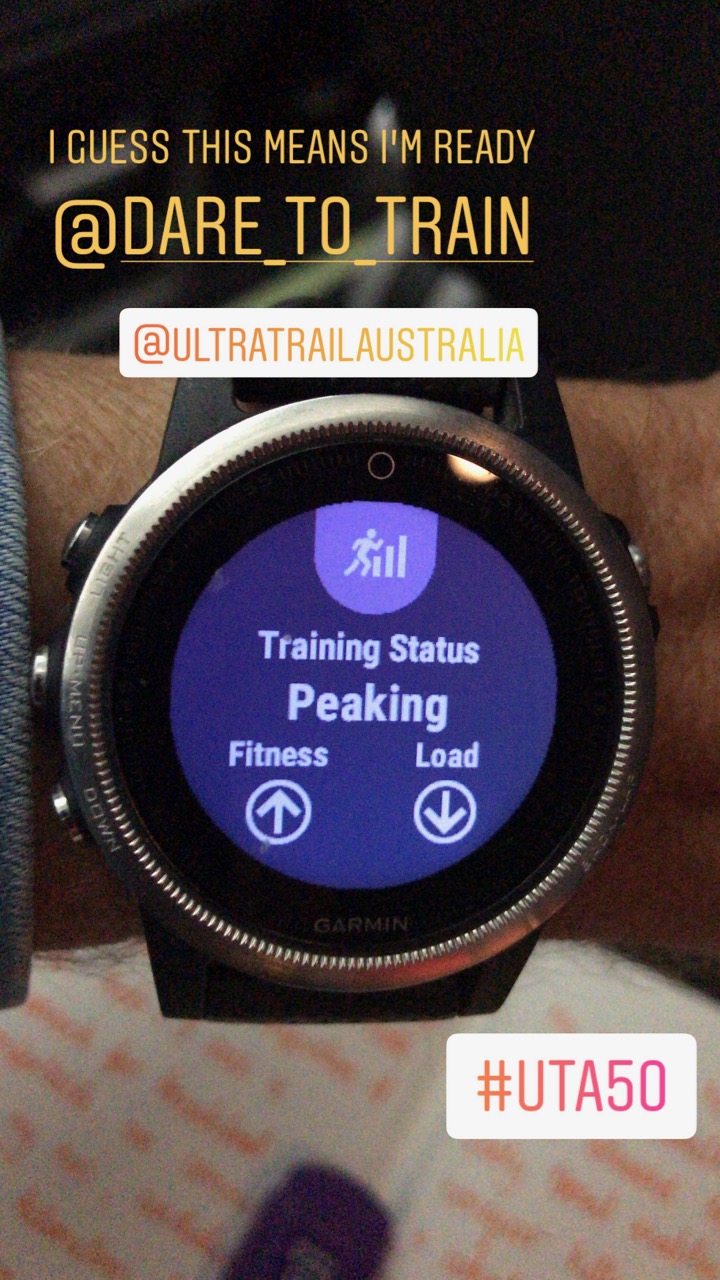 The UltraAustralia Event is  one of the most challenging, stunning and prestigious 50km trail running events held on breathtaking trails located in the  Blue Mountains National Park. It is the little sister to the UTA100 km event held simultaneously.
Rob and I travelled south with Tess and friends Paul and Joy McClymont. Joy is the legendary leader of Off the Track Training and had nominated to do the 100km while the rest of us were primed for the 50km distance. On arrival and check in to our accomodation, we marvelled at the view, knowing full well that while it felt like we were on a mini holiday, tomorrow would dawn and it certainly wouldn't be any holiday!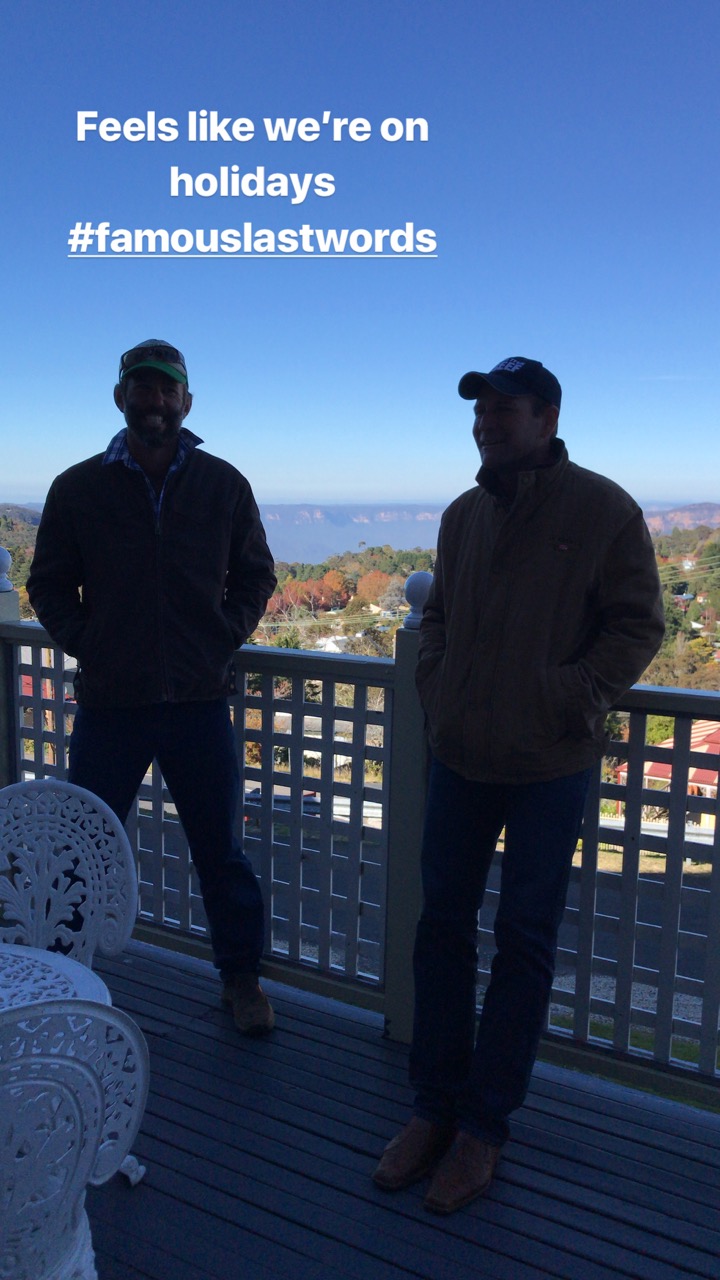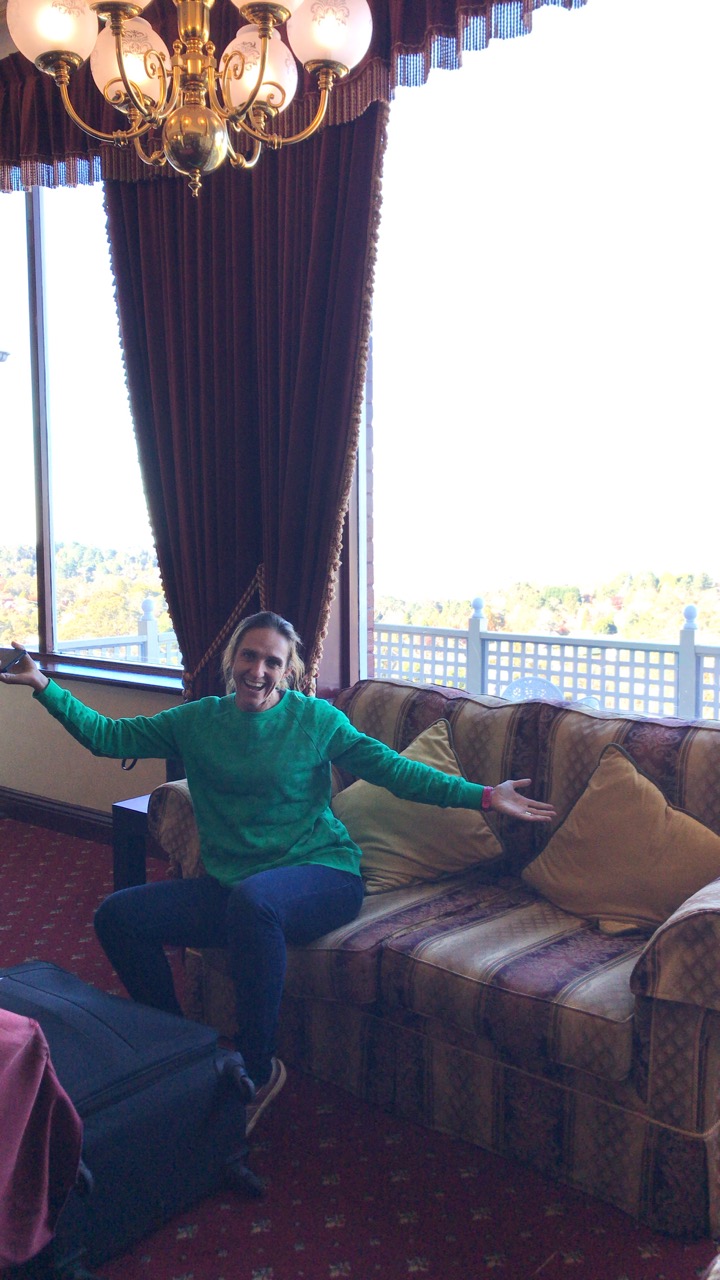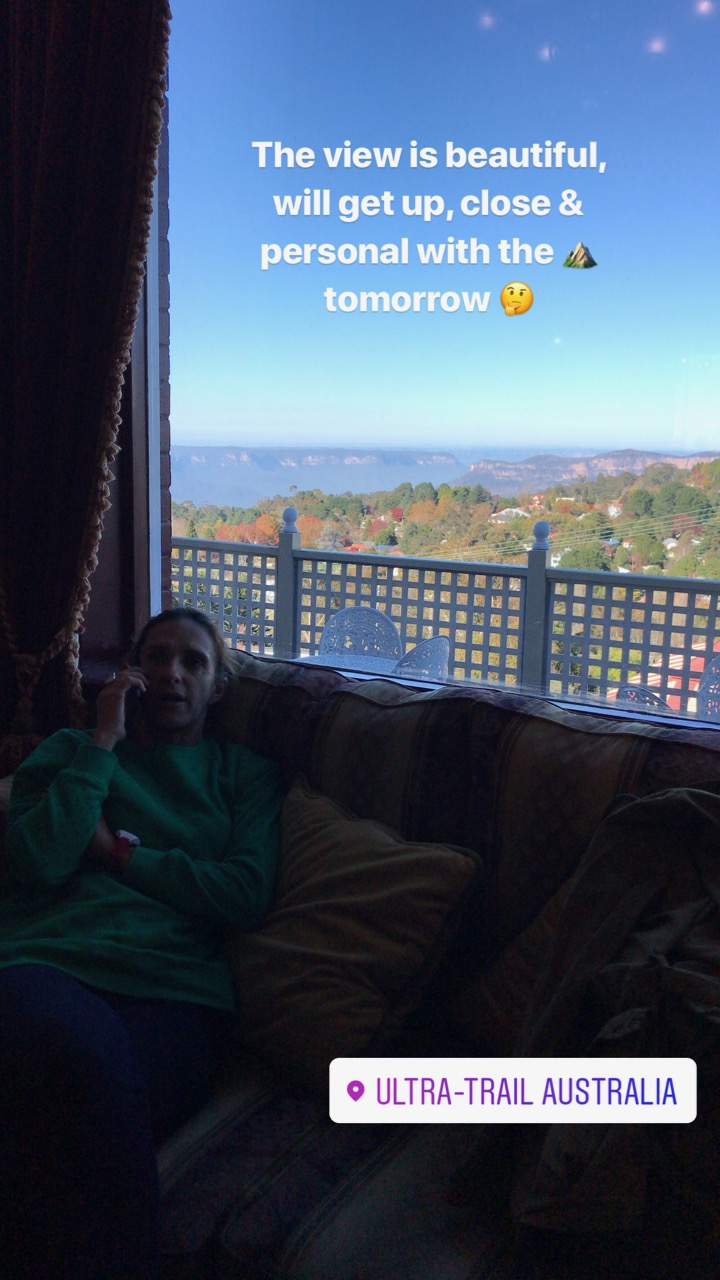 We enjoyed some hearty  lunch with friends, browsed the race expo (think all things to buy that are trail running related!), and collected our race bibs before doing the final race pack check.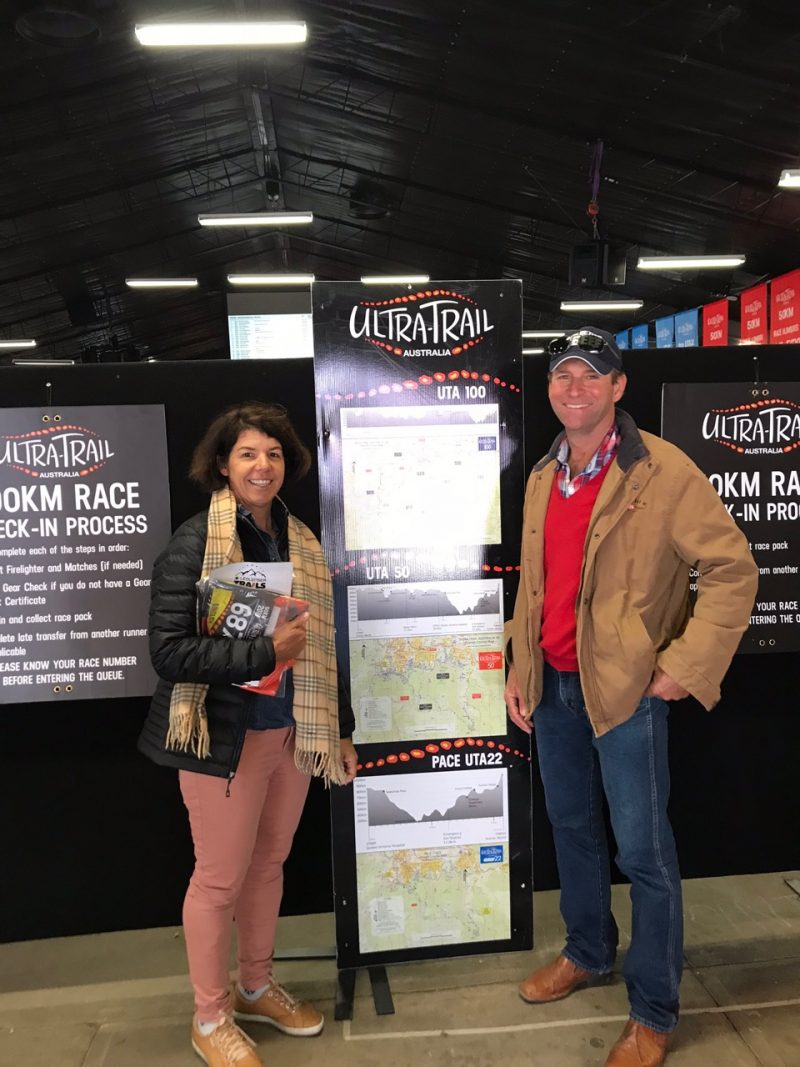 The mandatory gear list was quite comprehensive and as we anticipated being on course for between 8 and 12 hours, our nutrition and hydration strategy was critical. In hindsight, I didn't need quite as much as I packed, but always better to be safe than sorry!
Race day we were all up bright and early. Temperature was close to freezing, and we rugged up to make our way toward the starting line. I must commend the race organisers for an impeccably well organised event. Courtesy buses ran regularly from the Katoomba town centre to the start line at Scenic World. At 6am the bus was filled with runners starting in a similar wave to ourselves – you could almost visibly see the butterflies fluttering as nerves and excitement were both high.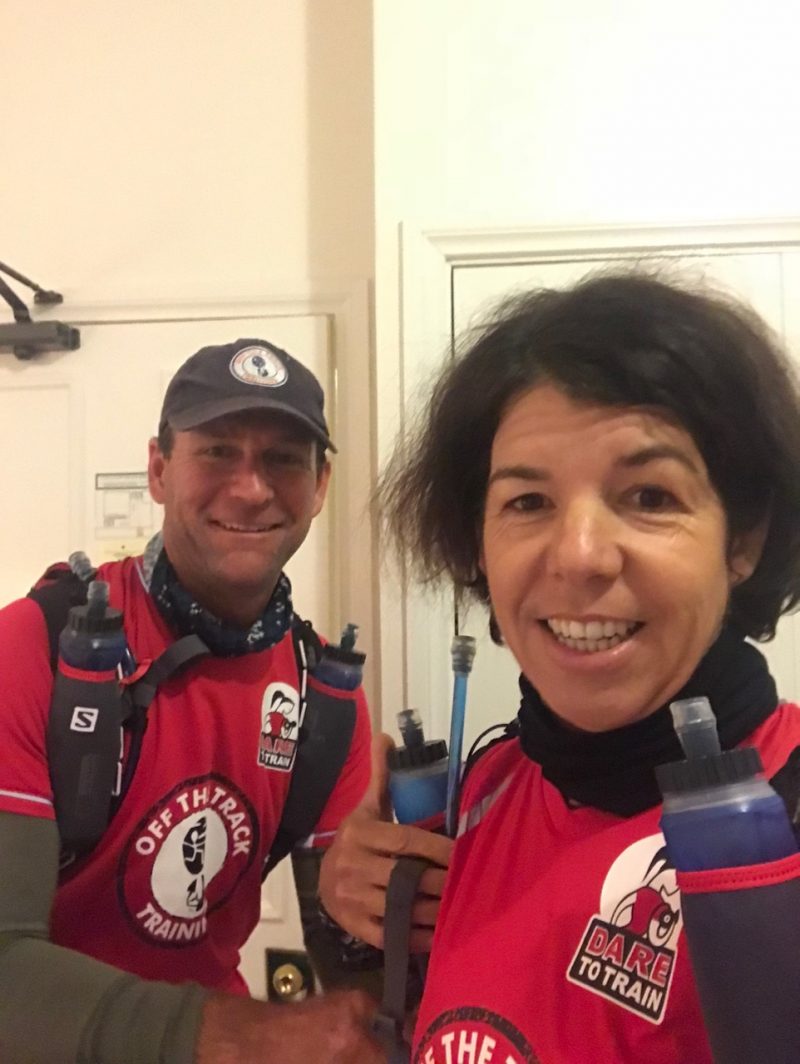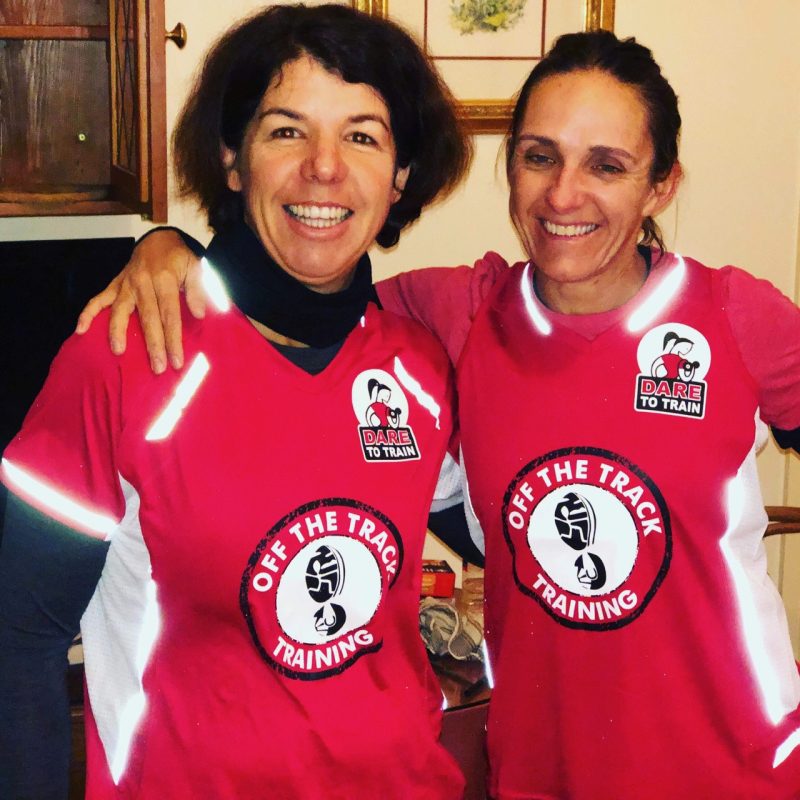 The atmosphere around the start line was amazing – music was pumping and it sure helped to take my mind off the task at hand.
We all giggled at the fact our jean and boot wearing menfolk had adopted very fashionable active wear for the event.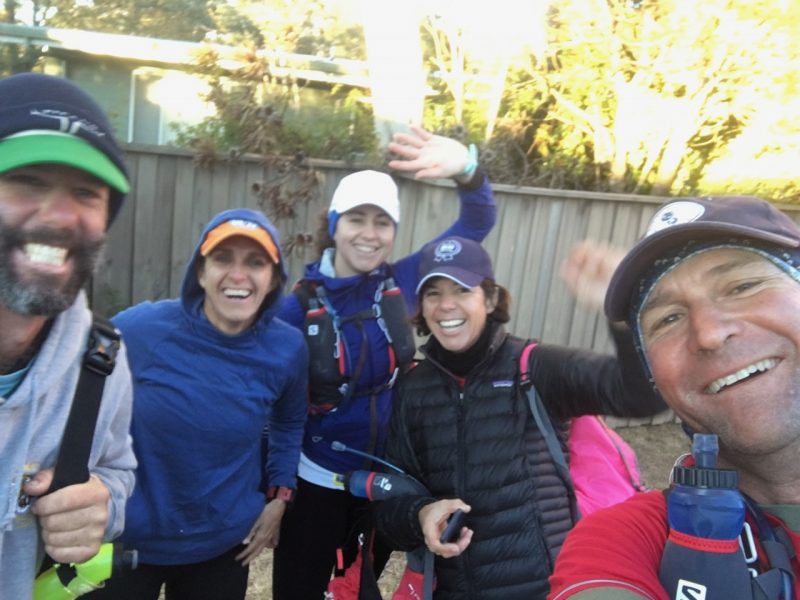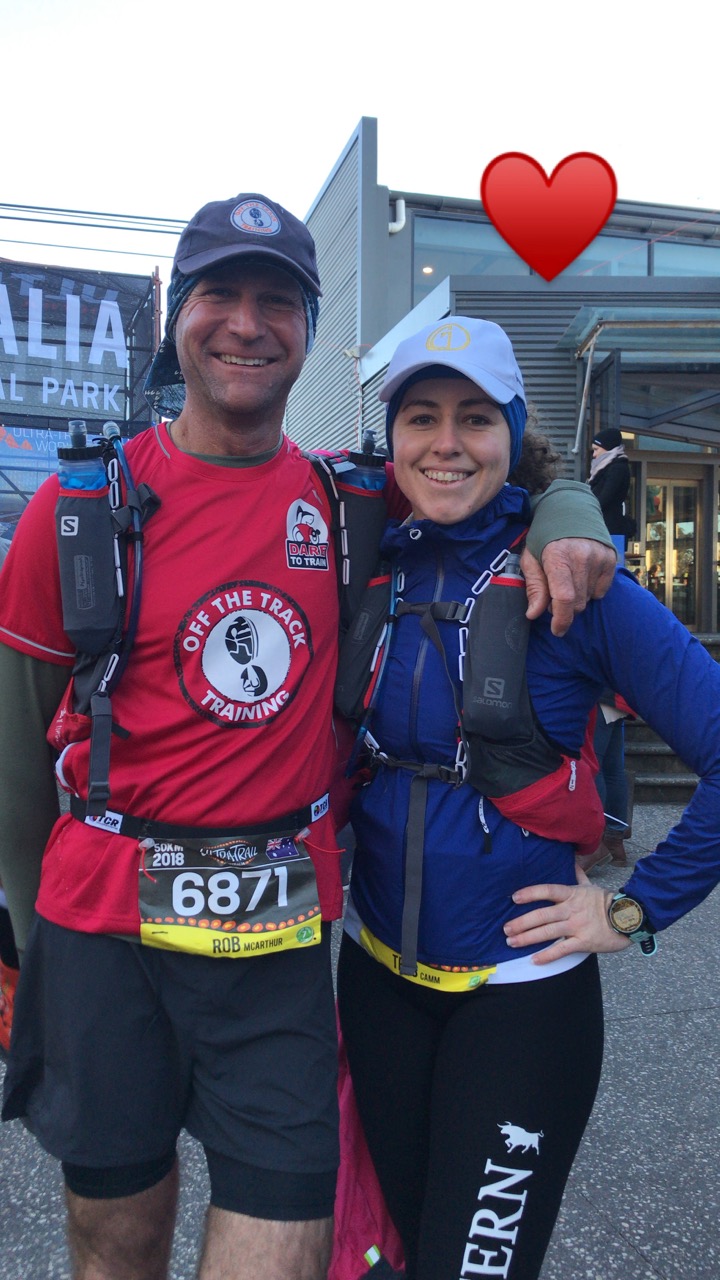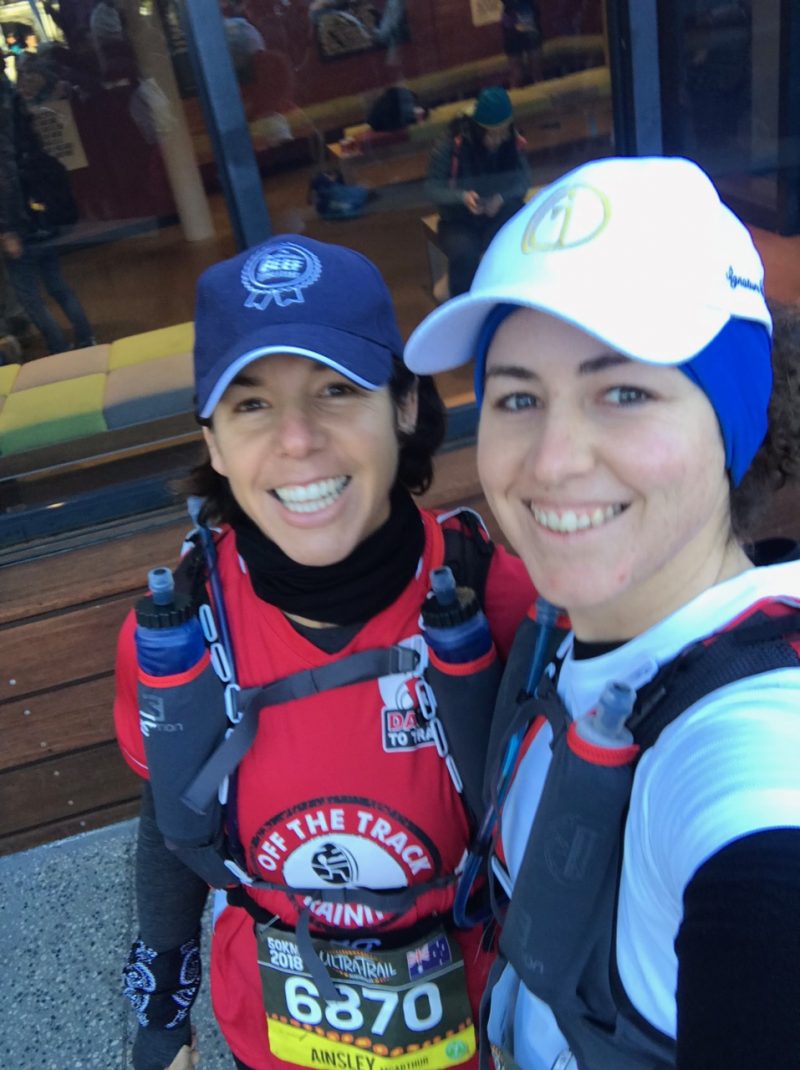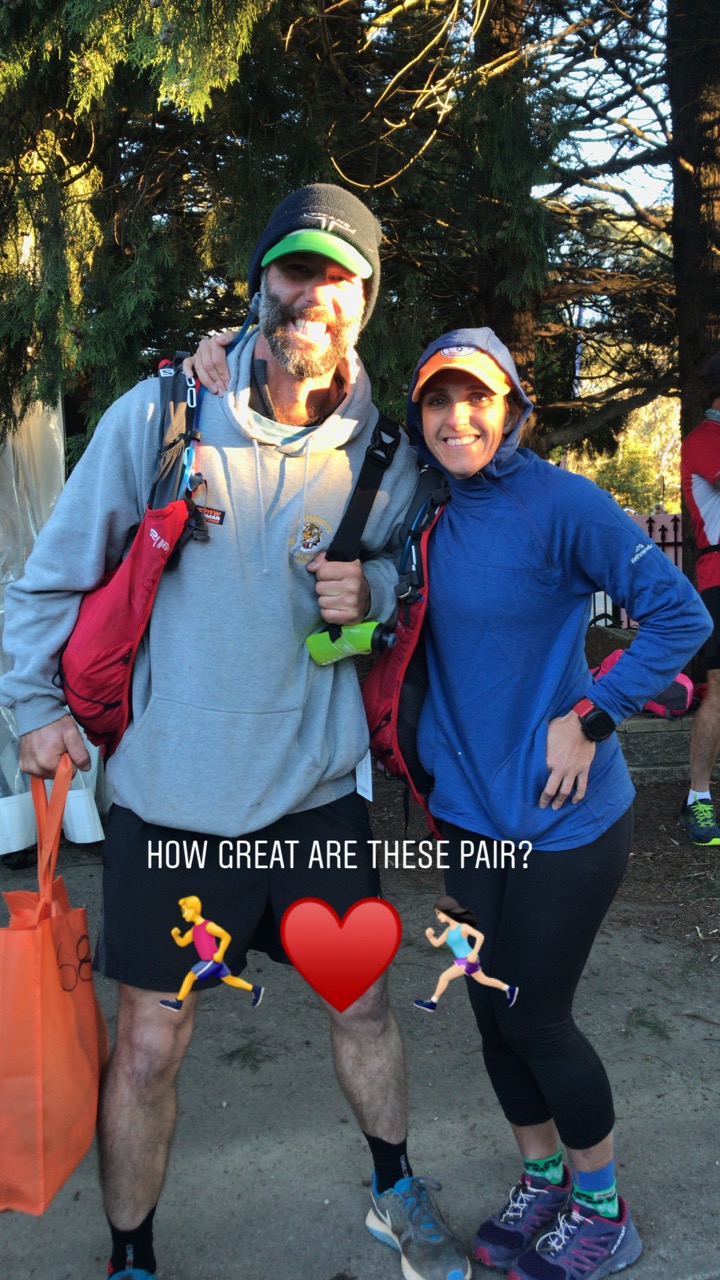 In no time it was Joy's start with our wave to begin 26 minutes later at 8.02am.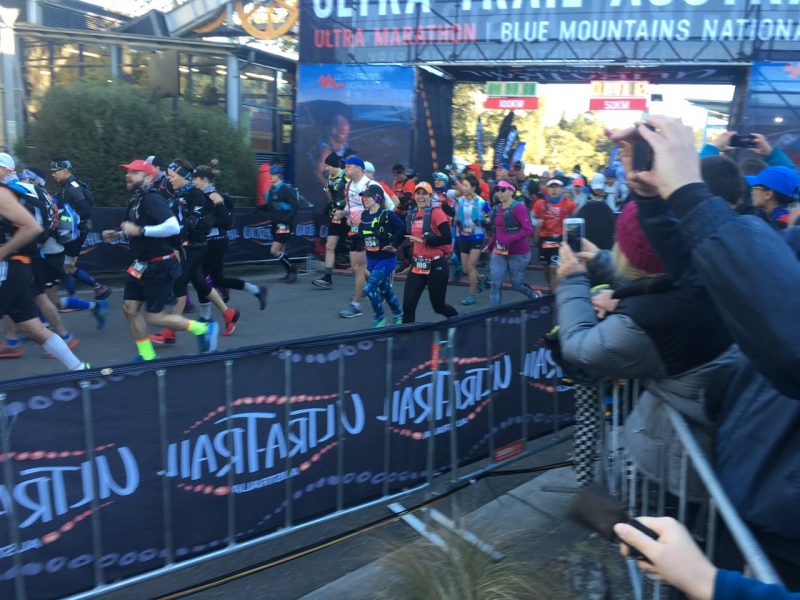 The first 7 or so km of the race was on road with a little fire trail, a little down and a little up. Felt great to be underway and fall into a comfortable, easy pace. After the first 800m or so we all began to run at our own pace, meaning Rob and Paul strided out. Our bibs had our names written boldly, and lots of spectators along the way would cheer out encouragement and say your name. It certainly gave you a lift. I also love the cowbells ringing – it really was uplifting. As we left the road to descend to the valley floor, I realise now how naive I was about the size of these mountains!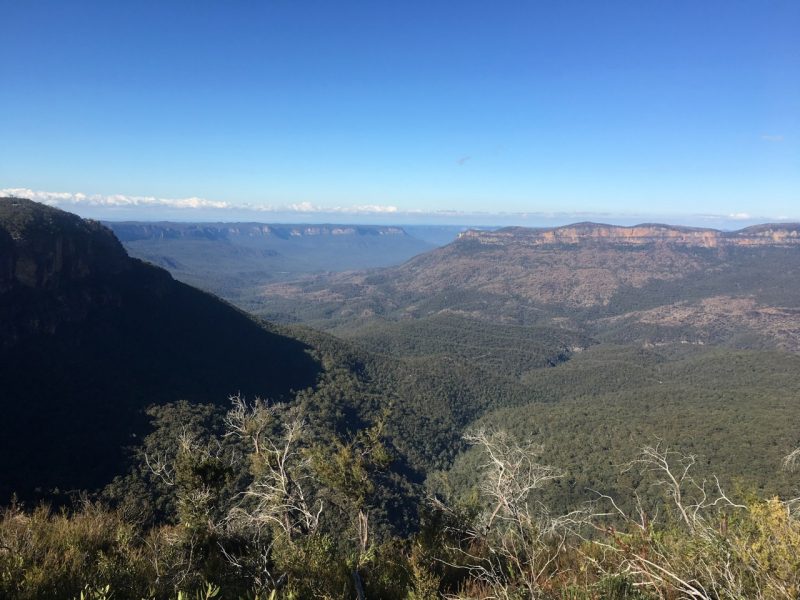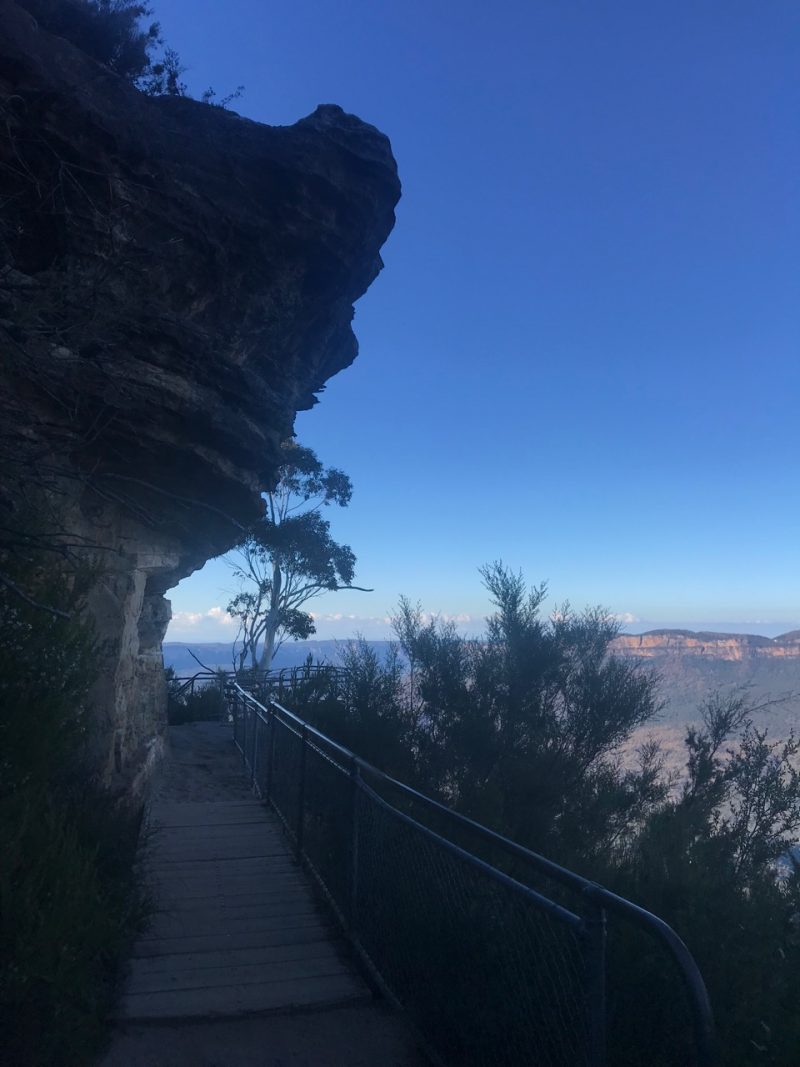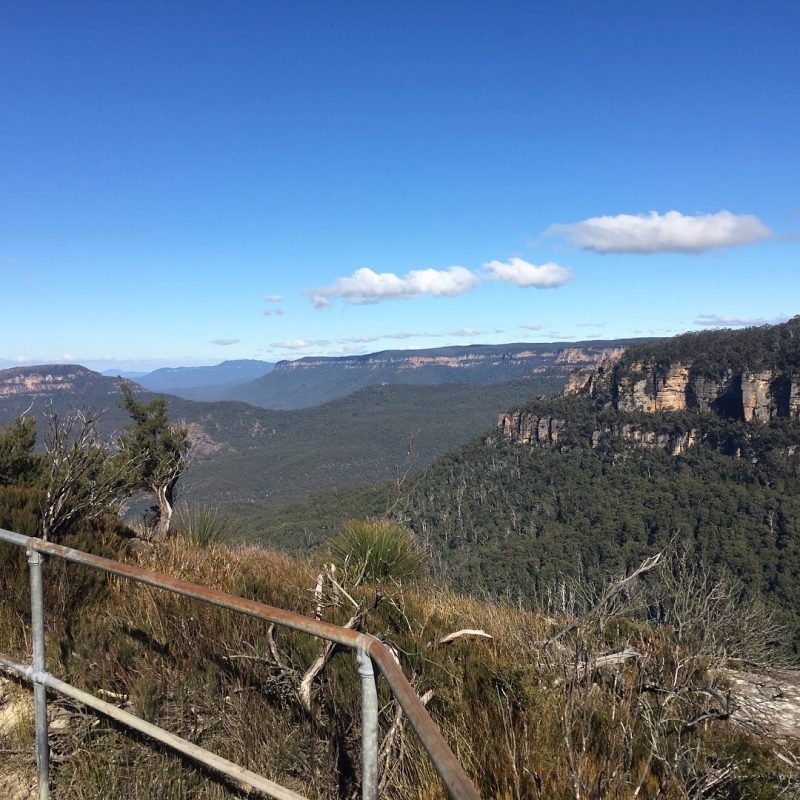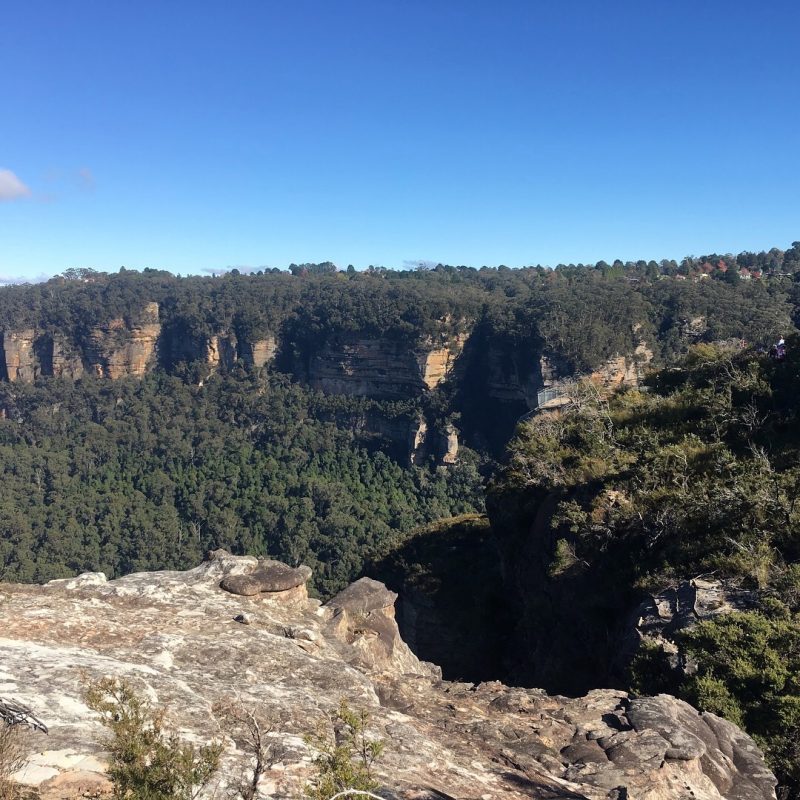 The Giant Stairway was straight down, it is long, extremely steep and narrow. I looked down once, died of fright, and then focused completely on being sure footed and placing one foot after another on each of the stairs. There was little opportunity for anyone to pass, runners formed a congo line and we dropped down into the Leura Forest. It was simply beautiful and a single trail which you could just jog along on, for about 1.5km. Then the stairs began in earnest. Up and down, and up and down. There were waterfalls and stunning scenery and stairs and more stairs. I felt strong and was able to power up all the stairs although if I stopped at all, I could feel my legs trembling. It was difficult to take my nutrition while moving as you had to watch your step so I used my tailwind during this section. For a while I followed behind an older fellow (I'm going to guess in his 60's), and then I ran alongside another man who didn't have a right arm. There were so many inspiring people on the track and it was lovely to chat to different people as we all moved toward the first checkpoint. A little bit of road for the last kilometre before Fairmont Checkpoint was a good excuse to run and remember how lucky I was to be able to do something like this.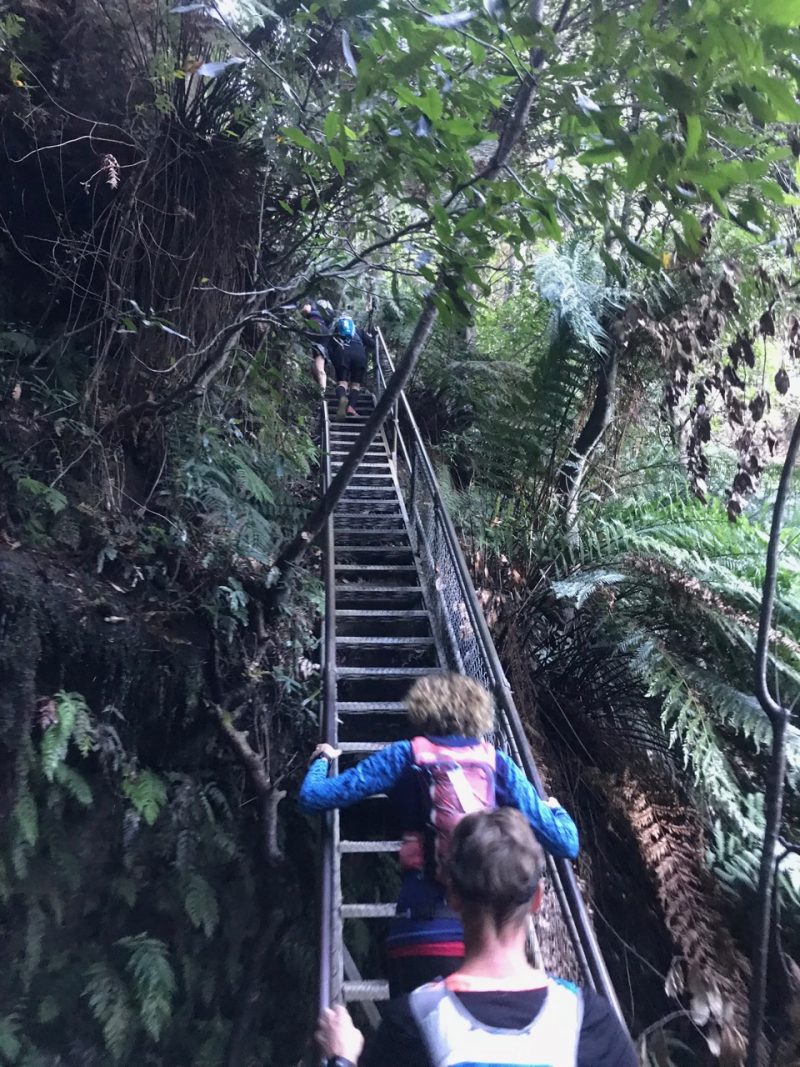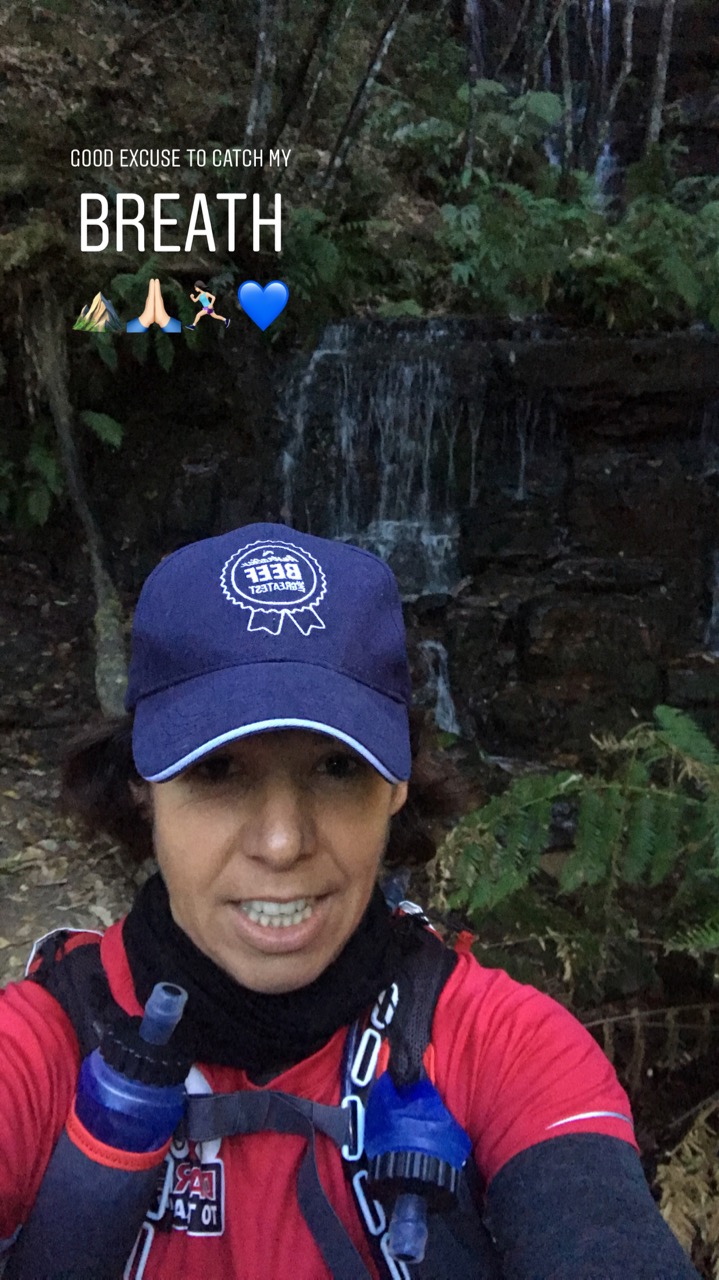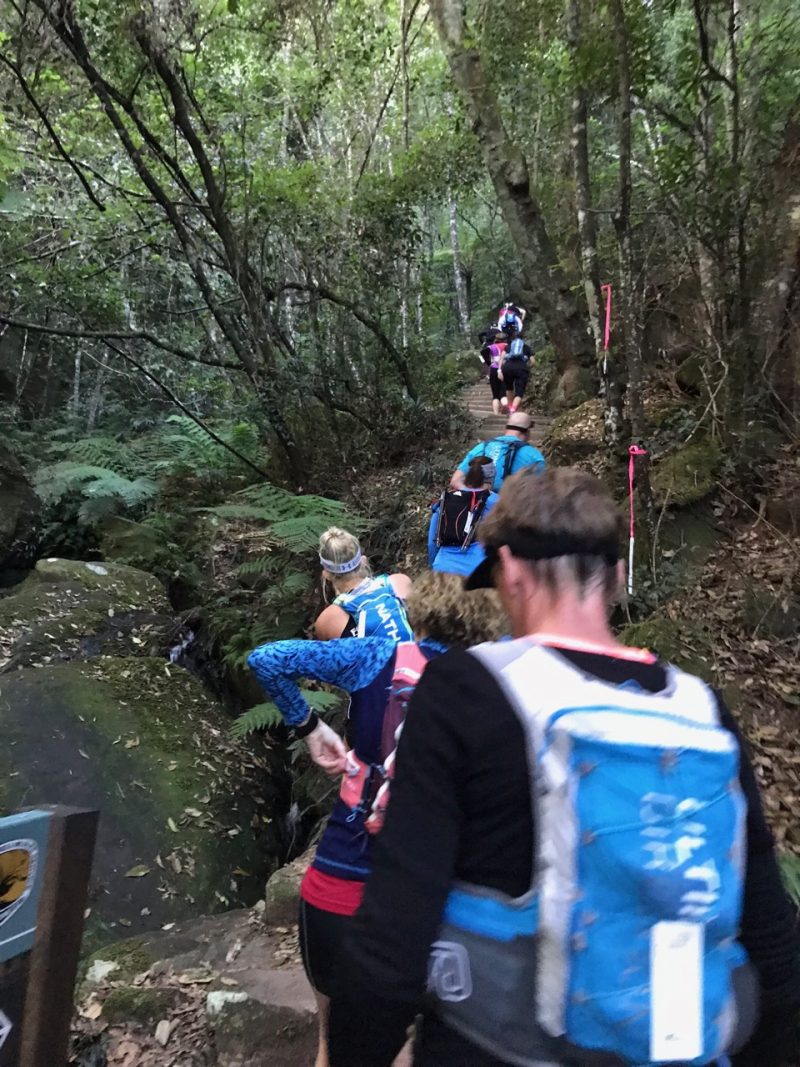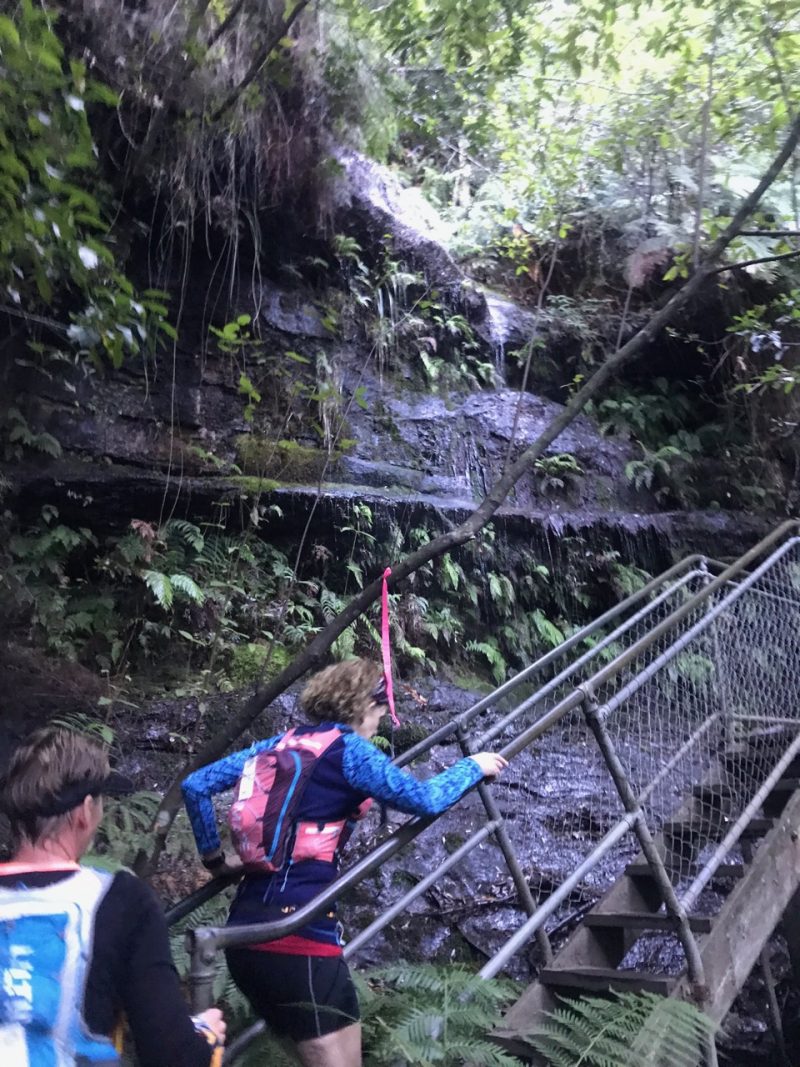 I'd read about not wasting time at Checkpoints and I also knew, from training, that stopping mid run is the worst thing you can do as it is harder to get moving again. I was also aware that those stairs had tested my legs and that I would be feeling that at a later stage. A quick refill of soft flasks and a handful of lollies and I was on my way again.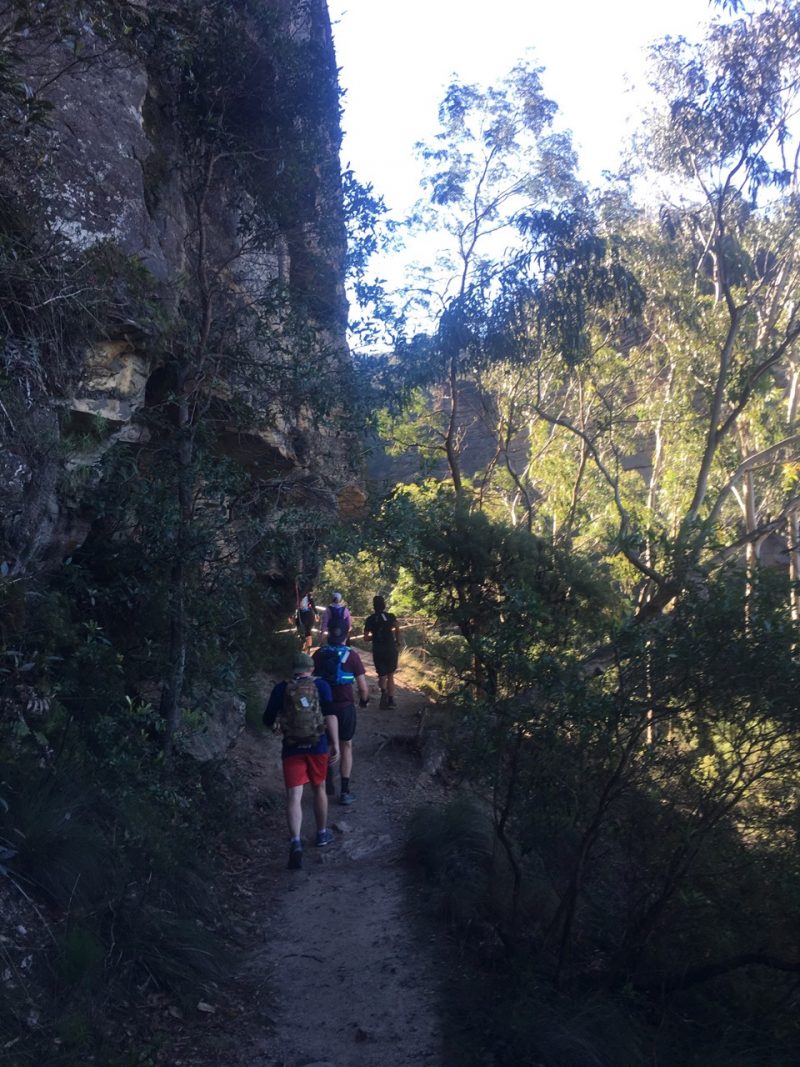 At the beginning of the run I thought I would remember all the lookouts and sights to recall and match my photos to.
Unfortunately, that didn't happen!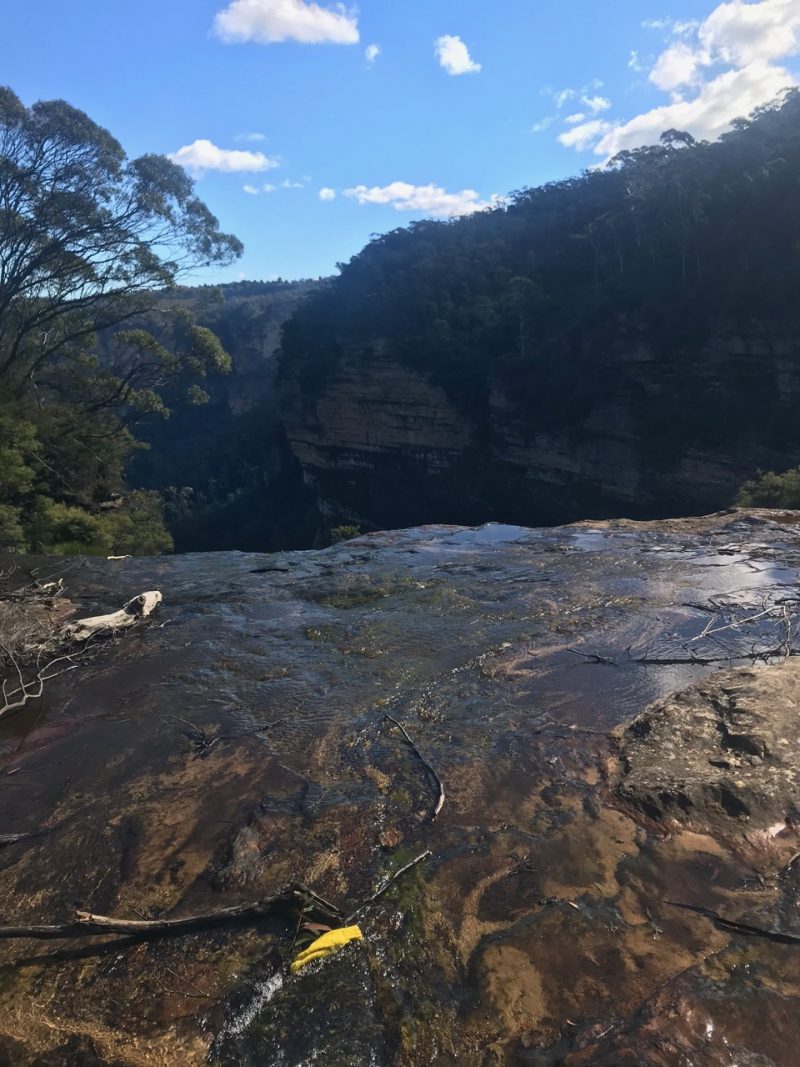 I do remember that between Fairmont and Queen Victoria Hospital there was lots of single trail, ups and downs, steps and scrambles.
I sipped my water, had a couple of gels and ran when terrain allowed and hiked the up and downs. A steep little track led us onto Tablelands Road and I was able to again jog along, passing a few people and arrived at the main Checkpoint. 28 kilometres down and 22 to go. Music was pumping and I danced while waiting for the toilet. I wasn't game to stand still as I knew my leg muscles were trembling and they wouldn't want to go again if I let them stop! I had a little snack of watermelon and a piece of fruit cake and filled my soft flasks – one guiltily with coke!! Despite the gas – it tasted good and gave me a little lift.
The next 8km were wide fire trail as we descended down Kedumba Pass. This downhill was brutal. It was a similar descent to the Connors Range that we had practiced a few times in training. Many people were flying past me but I maintained my slower pace. I began to have some pain in my right knee and as the down went on the pain increased. I felt so good in the mind, my heart was strong and while down was becoming painful I knew I could keep moving forward. On hitting Jamieson Creek, the up began again and up I could still do pain free. It was very satisfying to pass all those who had run past me on the down, on the way up. All those lunges and squats were paying dividends as I was able to continue to power walk the up. However the down wasn't getting anymore pleasant. Regular Cliff Blocks kept my energy levels on point as I arrived at the last Checkpoint. Here I grabbed some potato chips which were refreshingly salty and again refilled water. Only 8km to go!
I had no idea where Rob, Tess or Paul were – I knew that the boys would be very nearly finished and I hoped that Tess was going OK. I was also thinking of Joy, knowing that she would still have over 50km to negotiate. Focusing on others helped me no end as it took the focus off myself. I started chatting to a fellow from Mt Isa. Everyone on the course at this point was hurting, everyone was focused on finishing – this was the pointy end of endurance. I kept asking myself, is my head alright? is my heart alright? are my legs intact? All was good, it was sore but good. Keep on keeping on. The last kilometre of the UTA50 consists of the Furber stairs, a whole 951 of them. Darkness was descending in the valley floor although it was only 4.30pm. You could hear the cheering and bells ringing at the finish line and that spurred me up everyone of those 951 steps. On reaching the top, you have 300m to the finish line. The volunteer scanned my race bib and encouraged me to run, and run I did! The announcer called out my name as I crossed the line, I had my mandatory gear checked and I fell into Rob's arms. Tears streaming down both our faces. Goal was accomplished.
Rob and Paul had crossed the line just over an hour earlier. We would wait at the finish line for Tess who came in after dark. It was cold and it was black and we all knew that our fierce, team leader was still out conquering her 100km.
At just after 10pm we all went to Joy's 75km checkpoint. She wasn't expecting our smiley faces, and while we only spoke to her briefly, before hustling her back onto the trail,  it was long enough to give her some encouragement and a little buzz.
Although we were all running individual races, it felt so good to be part of a team who had each other's backs. Another life lesson right there.
At just after 4am we cheered Joy over the finish line. So elated to see her achieve something so big.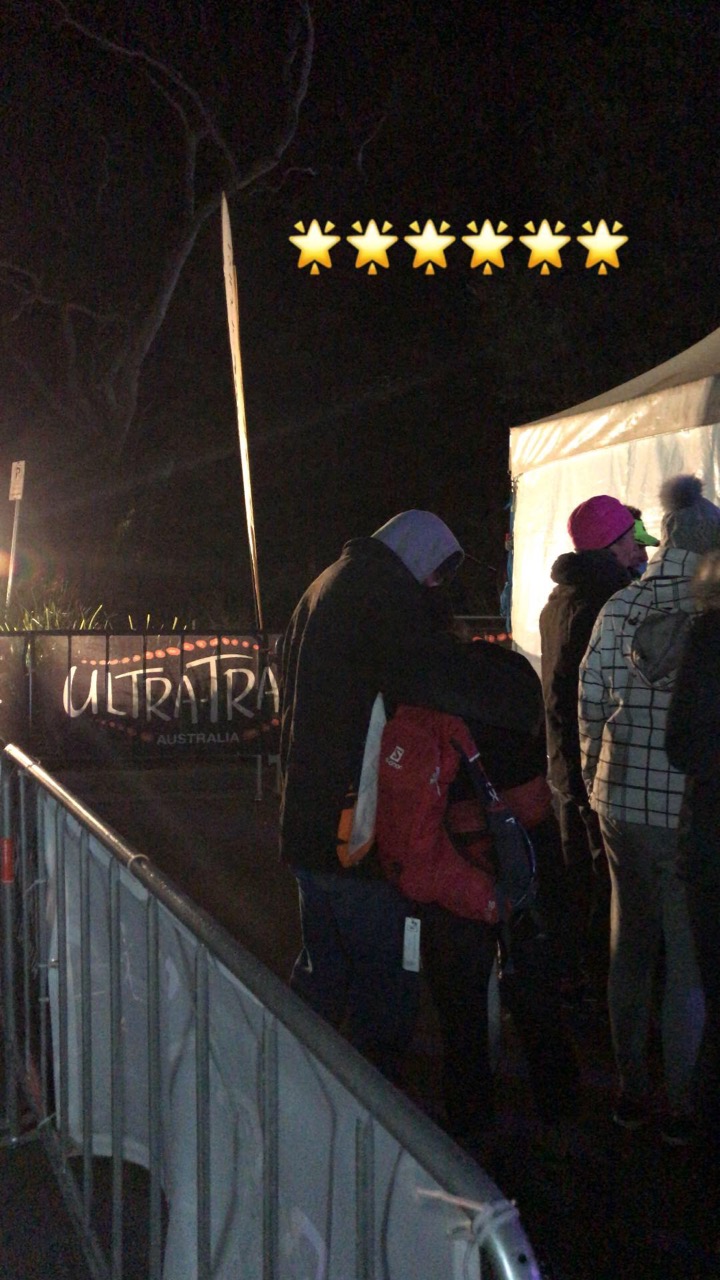 Victory of the Ultratrail course for all of us. We'd all set our goal and we all conquered our mountain.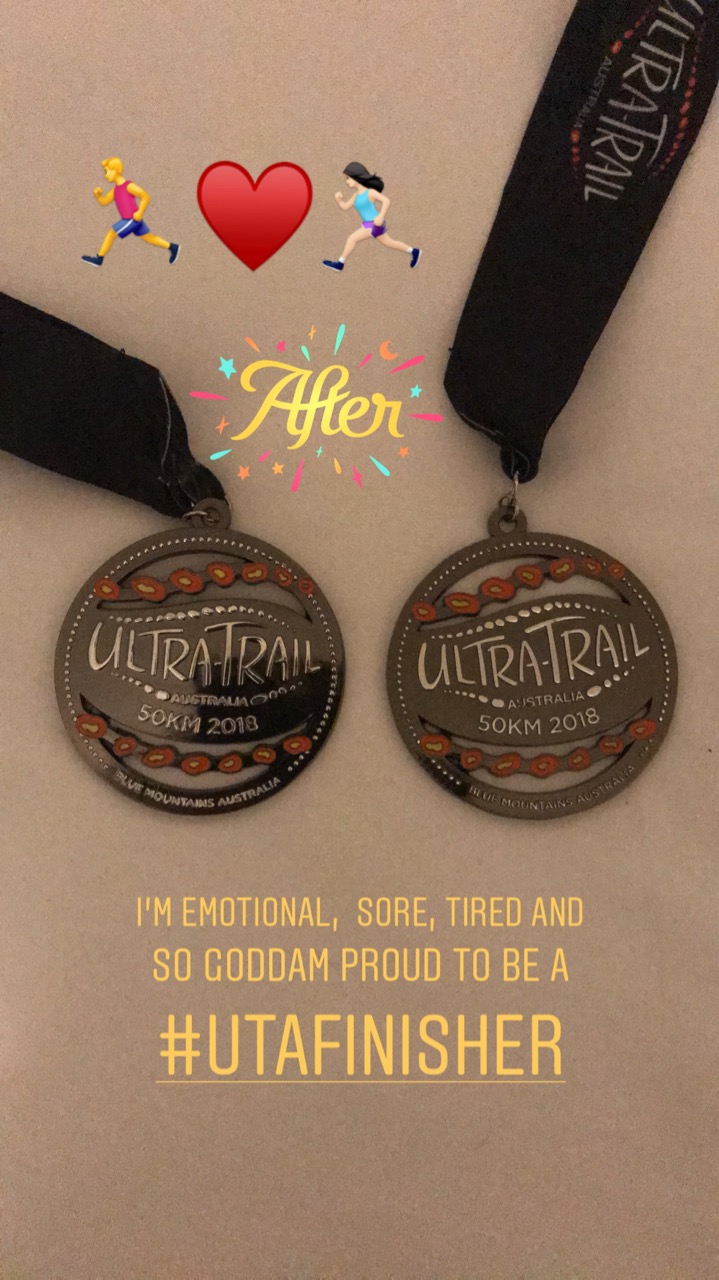 Now it's back to the everyday. Everything is the same, yet everything is a little different. Challenges do that. One thing for sure, we all have a lot more respect for stairs.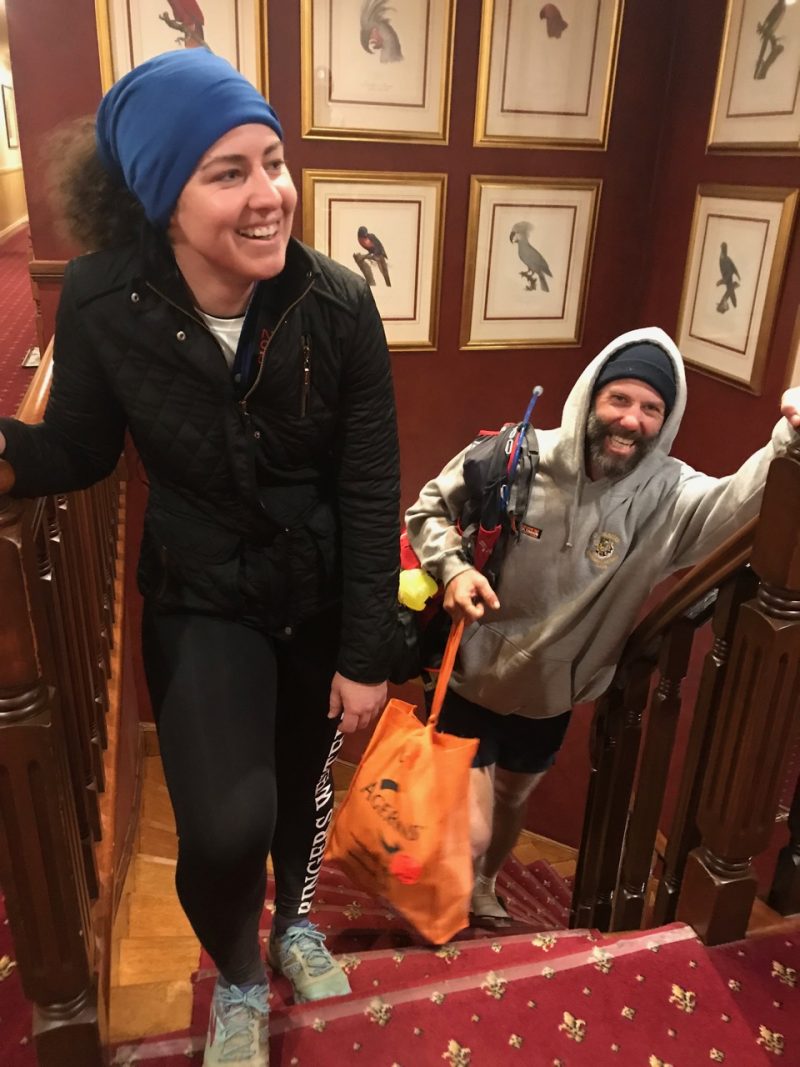 Other stories