January: The first month of the year always involves some cattle work for many reasons and 2018 wasn't any different.
Our grass growing season is usually well under way and this means a shorter rest period for the grass. A shorter rest period means that the grass is grazed for a shorter time, as we endeavour to build our grass bank. The cattle are rotated into fresh paddocks more frequently. January is also generally branding time, with our calves on average about 3 months old. Fortunately, January is school holidays and that means all hands are on deck to lend assistance. We certainly don't object to any rain interruptions as the days are long and hot. Lachlan headed off to join Andrew at boarding school this year. The first indication of my eye sight fading was when I had to thread the sewing machine to sew on name tags!
February: School routine became established, with Hamish Year 5, Adelaide Year 4 and Eliza Year 1. Rob and I both took time each day to work toward our personal health goals. Lots of time spent running, swimming, riding, being a yogi (certainly haven't nailed this one yet!) and eating good food. Slotted in a triathlon with the Fitzroy Frogs at Emu Park to add some variety. A weekend spent at Alinghi House, just outside of Agnes Waters, was a big highlight. Witnessing the baby turtles hatching was a bonus. Naturally, there were also plenty of days spent in the saddle!
March: Tess escaped the rat race of city living on an occasional weekend and we were able to often coincide the boys' weekend leave from boarding. Nobody minded getting dirty or dusty but I do think my washing machine groans a little! I have noticed how my role in the schoolroom has changed over the years. With the increased reliability, speed, affordability and data allowance of the internet, there are times in the day when the 3 kids are all online concurrently, webcams beaming, VOIP broadcasting and keyboards clickety clacking. I can sneak out and peg a load of washing! March heralded the end of the cricket season. Lachlan & Hamish were pretty pleased to be part of the Brothers U12 Team. Running featured more as we continued to build toward the Ultra Trail 50km event and I'm still trying to catch Rob 😉
April: Easter was a time for picnics in creek beds and road trips to visit Cousins. More running too …..
May: The tri-annual Beef event in Rockhampton came around. Beef Australia is always a highlight – so much to see, heaps to learn and my favourite part, catching up with so many like minded people. This year was extra special as we hosted some Celebrity Chefs. Fancy cooking breakfast for Curtis Stone, Matt Golinski, Tarek, the Ironchef and his fabulous team, Dominique Rizzo, Ben O'Donoghue, just to name a few.
Good thing Beef Week coincided with our tapering time for the Ultra Trail event. Mid May we headed to the Blue Mountains to run. It is an event I will relish forever. So much fun to share the journey with Paul & Joy McClymont and of course Tess!
June: The rain dried up and the season certainly deteriorated. Dry lick supplement started in earnest and we juggled the grass, livestock and money inventory.
July: Superdad Rob kept the homefront humming while I venture to the North West and joined Shelly Hawkins and did the Trekwest. Can't recommend this adventure enough – so good for the body and soul.
August: We laced up our runners again with the Melbourne Marathon and the Run the Great Whitsunday Trail events in our sights.
September: Kids enjoyed both the tuition and the interaction at a Horse Sports event hosted by Marlborough Pony Club. The grass remained dry and we sure did eat into our grass bank.

October: Melbourne Marathon ticked off, a day with Lisa Messenger done, Andrew's Mocktail event witnessed, lantana control (ongoing!!), never too old for play dough moments, version 3 of the Chicken Tractor built, Hamish now taken over the chore of milking the house cow and plenty of cattle work. Our days were full of all the things we love. A decent fall of rain in October put some Spring in our step along with the roses, new piglets and plenty to harvest from the veggie patch.
November/December: Somehow November slipped past, I do know cricket kicked off again with Eliza joining in as well. Lachlan was selected to play representative cricket for the U13 Central Queensland side and bravely chose to play his matches instead of joining us in Japan for a snow skiing adventure. We missed him like crazy but were equally proud of his commitment to a sport he lives and breathes.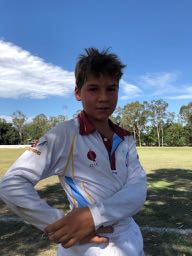 My biggest lesson for the year was learnt in early December, as I became a little frenzied with 'getting ALL the STUFF done' before we went away, before Christmas, before who only knows what! I was that shouty & cranky frenzied woman. I choose not to celebrate being busy and firmly believe that if you're doing what you love, with the people you love, all will be well. I just forgot the bit about being present with the people & things you love. While this blog post is certainly the highlight reel of a very big and beautiful year, it really has just been about the family and friends who've supported, encouraged and believed in me, laughed with me & cried with me.
I look forward to the growth & the journey & making more memories in 2019.
May the year ahead be all that you hope for, full of Happiness, Health, Green Grass and Wealth xxx
Other stories