Although we had all skiied before, apart from Adelaide & Eliza, we invested time & money each day in a 90 minute, private ski lesson. Michael & Rasmussen met us each day and guided us down the slopes, giving us lots of pointers and plenty of drills to practice.
Ras took the three littlest kids each day and in no time had Eliza, Adelaide & Hamish nailing a snow plough and perfecting their parallel turns. I'm sure his instructions extended to 'how to make and throw the best snowball'. Michael had a more diverse group to work with! Andrew was all about speed and took to skiing (with a much higher centre of gravity than he had 4 years ago) like duck to water. Rob & Tess were also carving up the powder as they sped down the slopes. I likened myself to a slower, more graceful skier, and was happiest perfecting my parallel turns and the occasional hockey stop while also practicing hard with my flamingo manoeuvres. I was super impressed with how personable both instructors were and how they genuinely took an interest in our progress over the 7 days. In my humble opinion, money spent on lessons is money well spent.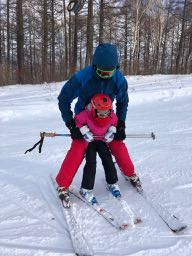 Of course we weren't always perfect students. One morning we missed the start by 15 minutes after getting a little lost on our walk up to the Gondola, ending up at the wrong Gondola and then having to catch a snow taxi to the right Gondola & then running down to the ski locker to collect our gear …. phew! There was also the morning that I realised, halfway up the mountain in the Gondola, that I had picked up "Audrey's" skis instead of "Ainsley's" skis t at the Ski Locker. After a failed attempt at the middle Gondola station to communicate with a Japanese attendant about my need to disembark and go back down the mountain to fetch the correct skis, I turned up to my lesson with a set of skis that did not fit. Michael & Ras had a chuckle, adjusted the 'borrowed' set of skis and had me on my way – no trouble. I'm still wondering how Audrey got on for the day!? As a side note, her skis were actually easier to ski on than mine!
We quickly fell into a familiar ski routine each day. Following our lesson, we would meet up with the Pearce family at Buna (a fabulous restaurant on the mountain) for Hot Chocolate with Cream on top. Henry & Andrew would then explore the most challenging runs and moguls while the rest of us would break into a couple of groups and perfect our new found skills in the Yamabiko area.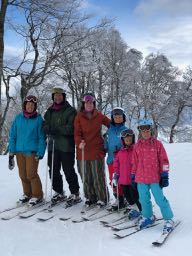 Snow days soon gather a rhythm of their own. Wake, check the overnight snow report and forecast conditions, eat a hearty breakfast, add the layers of clothing, pull on the boots, trundle up the hill to collect the ski gear, wrangle the kids into ski boots, waddle to the chair lift with gear underarm, ski lesson, stop for hot chocolate and warm bowl of ramen with an onsen egg, return to skiing to practice new found skills, ski back to village, be brave and have an onsen, wander the cobbled path to find some dinner, climb contentedly into the warm bed and sleep like a baby. Repeat.
Meanwhile Lachlan continued to enjoy his week of rep cricket back in Australia. We missed him & he missed us but neither party was dwelling on that!
On our final day some of us (the girls) decided to do a tour to see the Snow Monkeys. The male contingent of our group kept on skiing! The bus trip, sushi train experience and the little hike up a little hill were well rewarded when we sighted the Snow Monkeys. Such funny little creatures, curious of yet oblivious to the scores of tourists like ourselves who pointed, photographed and stared at their funny little ways.
And so our snow vacation came to an end. The last morning we meandered the streets looking for a few souvenirs to take home. We left relatively empty handed because no memento could really replace the wonderful time that we had all had. To experience the simple way of life that the people of Nozawa Onsen lived and had shared with us as tourists would remain with all of us. It was now time to board the bus, and transit back to Tokyo, fly back to Brisbane, be reunited with our 'cricketer' and dive head first into Christmas!
Other stories